Sunday, February 28, 2021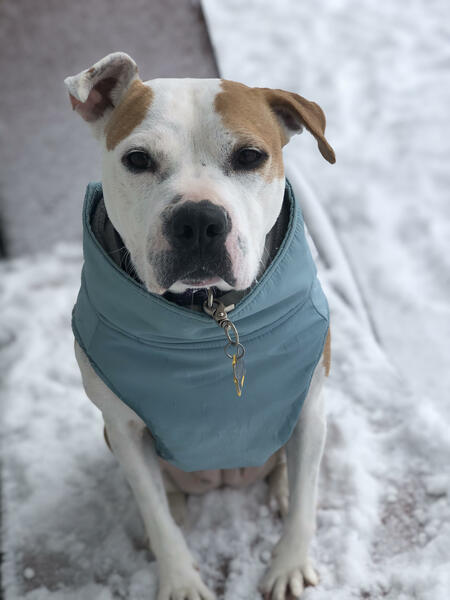 What a crazy winter! Our second snow storm this year alone and it is sure was a doozie. 2021 is definitely trying to out-do 2020. Again, we hear the phrase "what a crazy time we are living in" and how true those words are. I'm not sure what more we could actually be shocked by. But, what about your pets? How are they holding up from all the craziness?

I'm sure that many pets have enjoyed the fact that their families were, again, home for an extended time. They probably had fun in the snow, or maybe they just liked to look at it from the warmth and comfort from inside. My personal dog, Maple, had so much fun running through the snow and eating her on personal "snow cones". Whether your pet was like Maple or preferred the view from the window, the snow brought more family "togetherness" and there is just nothing better for a house pet.

However, were you and your pets ready for a storm like this? I have found that in the midst of something unusual this is when we realize that we were not as prepared as we should have been. As a result, I felt that we should take this opportunity to review some "Winter Storm" Do's & Don't for your pets so that the next time we find ourselves faced with extreme weather conditions we can make sure that our furry family members are prepared too.
Storm Preparation
Make sure that you have enough food for your pet for at least 1 week. When measuring, consider the amount of food you feed during a "normal" time and determine if your pet will need any "extra" food during this time.
If concerned about water outage, make sure to have enough water supplies for at least 1 week. Dogs should drink approximately 1 ounce of water (⅛ of a cup) per pound of body weight each day to avoid dehydration.
If your pet is taking any medications be sure that you have at least 1 weeks worth. If the prescription(s) is running low, contact your veterinarian to go ahead and refill before the storm arrives.
If your pet is showing any signs of ailment please contact your veterinarian to have them seen prior to the storm. Please do not "wait and see" as if the conditions worsen you may not be able to get your pet to the vet.
Make sure to have an updated copy of your pets vaccination record (including their rabies certificate). You never know if you are going to have to make a quick "get away" and need to find a place for your pet to stay.
Consider your pet's coat (fur) - you may want to purchase your pet a sweater or jacket to help them stay warmer when having to go outside to potty. Remember, our pets here in the south are not used to extreme cold temperatures.
In the event you lose electricity, make sure you have extra blankets for your pet to use to stay warm. Your home will cool down quickly.
You need to have an updated photo of your furry family member incase they get lost during the storm. Having a picture ready to share on social media will help your chances of finding them.
During the Storm
As the weather moves in, make sure you are keeping a close eye on your pet(s) when outside. The snow can change the appearance of their surroundings and cause confusion. This is when so many pets get lost.
Consider the temperature before letting your pet outside. Again, our southern bellas and fellas are not accustomed to the extreme cold.
Check your pets paws when you come in from outside. Make sure to dry them off and remove any ice that may be stuck to the bottom of the paw pad.
Be careful if you live around water (lake, pond, pool). If the water freezes over you do not want your pet to attempt to walk over it. They could fall through the ice. This is when walking your pet on a leash is a good plan!
If your pet falls through ice - CALL 911 - DO NOT GO IN AFTER THEM!
After the Storm
Restock supplies.
Follow up with a vet regarding any health issues your pet may have had.
Create & review your storm preparation list to include your pets.

I know what some of yall are thinking...what about outside pets? Well, you are exactly right. All the above information definitely applies for them as well, however, some extra precautions need to be taken to help them manage the frigid weather. If you can, you should find a place for them indoors, however, I do understand that isn't always possible. In those situations please make sure you consider the following:
Make sure your pet has proper shelter. A dog house alone will not be sufficient for extreme cold. Please add hay, wool blankets, and tarps to help keep them warm and dry.
Use a heat lamp if and where possible.
Give extra food at feeding times and possibly an extra feeding. This needs to be considered when determining the amount of dog food you need to have on hand. Your pet will burn extra calories trying to regulate their body temperature so additional food is needed.
Change out their water every few hours. If the temperature is below freezing your pets water supply will likely freeze.

Please do not wait until the weather moves in to decide that your pet needs any of the above items. You will likely have a hard time finding them as others have already beat you to it. You may also not be able to get out to look for the necessary supplies.

Now that this storm is over is the time to make a list of all the items you wished you'd had for your pet. Once your list is complete either purchase those items and put away for the next storm or put the list in a safe place as your "storm prep list" so you know exactly what you need to buy the next time you are told to prepare for a winter storm.
Tags:
Knowledge